Books - Clickerbooks - Crick Software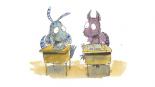 Since 2001 Pete has written and illustrated 12 children's books published by Crick Software. Each book includes an interactive CD-Rom that helps enable children with special needs to learn whilst enjoying exciting illustrations and engaging stories.

Crick Software has been established since 1993 as a leading UK educational software company, founded and run by qualified teachers. Reading and writing are their specialities, and their software is used in over 90% of UK primary schools. Crick Software promotes the inclusion of children of all abilities. They have won a total of 10 BETT Awards, the 'Oscars' of educational software development, plus a Millennium Award, and their software is now used on over half a million computers in the UK, the US, Australia, New Zealand and many other countries.

"Universal Design for Learning is fundamental to everything we do. As we develop our software, we think carefully about learners of all abilities, and we strongly believe in the principles of personalised learning. Our software is used by pupils of all abilities, including struggling writers, learners with dyslexia, children learning English and those with disabilities."
©2007-2010 Pete Williamson and Crick Software