Books - Granny Grabbers' Whizz Bang World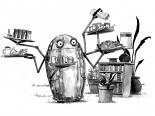 Delilah Smart is just an ordinary girl who wants to have a normal childhood, but her parents have other plans. They are determined that she should win the Worldwide Extreme General Knowledge Competition, and in order to achieve this Delilah must cram all day and only play with educational toys like the Sir Isaac Newton Brain Building Bear. They even buy a childcare robot to do the boring stuff like actually looking after her.
But Robot Granny Grabbers has hidden qualities and her own views on how to raise Delilah. She lets her eat chocolate cake and play on trampolines. She builds aircraft out of household object sand orders pets off the internet. And very soon Delilah is learning how to have fun.
And then disaster strikes!
Granny Grabbers'

Whizz

B
ang World - 5 July 2012

Granny Grabbers' Daring Rescue - 7 February 2013

From

Hodder

Children's Books.